Select size
Size guide
Size added to cart
Go to cart
Tell me
Would you like us to notify you when the size becomes available?
Bra
4 900 rub. 6 370 rub.
4 900 rub. 6 370 rub.
4 900 rub. 6 370 rub.
4 900 rub. 6 370 rub.
4 900 rub. 6 370 rub.
Complete the image
Complete the image
Complete the image
Description
Image selection
Delivery & returns
Bra
The trendy triangle bra is sexy and feminine at the same time. It is optimal for every day or a romantic date. The fabric is delicate and perfectly fits the body. The thick base is made in a thoughtful geometry, thanks to which reliable breast support is provided. The vertical seams on the cups guarantee comfortable positioning of the bust and, at the same time, an unusual «flourish» effect on the body. We recommend combining this bra with matching high-rise panties.
Article:
1255
Composition
Outer fabric:
Nylon 10%, Polyamide 90%

Caring
Hand wash only. Do not rub, do not spin
Washing in cool water no higher than 30°C with a neutral detergent
Do not bleach, do not use chlorine-containing detergents and washing powders with bleaching agents
Don't iron
Подбор со стилистом
Персональный подбор образов с нашим стилистом
Terms of exchange and return
Return of goods of proper quality is possible if its presentation, seals, factory labels, labels, consumer properties, as well as a document confirming the purchase of the specified goods are preserved.
Items that have been used or have damaged tags cannot be returned.
Exchange/return online store (remotely)
You can exchange or return a purchase made online (remotely) within 7 days * from the date of receipt of the goods.
In the case of an exchange of goods of good quality, the return shipment is paid by the Buyer in one direction.
Refunds will be made minus shipping and handling fees. When placing an order with delivery by the transport company UPS, the return is made minus the customs fee.
Custom made orders cannot be returned or exchanged.
Making a refund:
— Within 7 days * after receiving the order, fill out a return application in your personal account, indicating your data for the return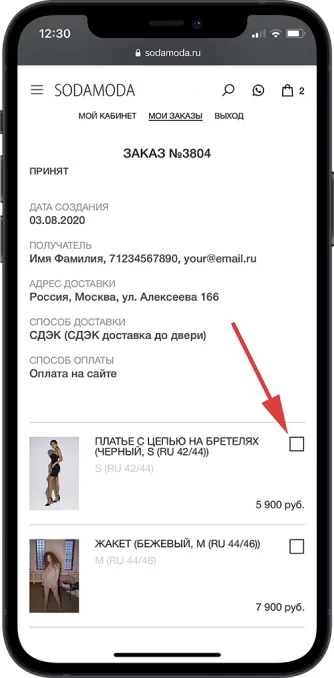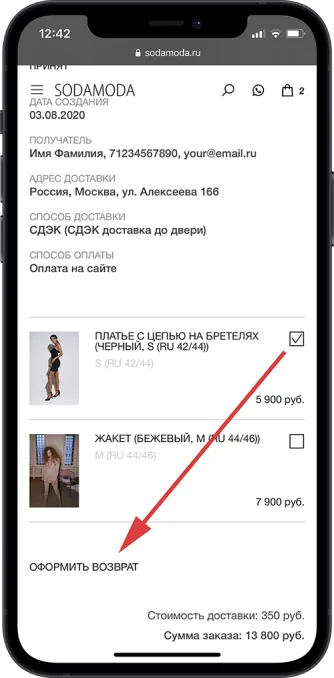 Complete the image
Complete the image
Complete the image