Size guide
Size guide
Tell me
Would you like us to notify you when the size becomes available?
Description
Image selection
Delivery & returns
Down jacket
This voluminous, thigh-length jacket is lightweight, incredibly warm and 100% exclusive. It's filled with hollow fiber, accumulates heat and keeps out the wind. Everything is perfect in this model: the high collar, elastic cuffs, loose silhouette, and easy-access zip. You can combine it with slim pants, thereby playing with volume contrast.
Article:
1430
Materials
Верх-60%Вискоза 30%Полиэстер 10%Нейлон Наполнитель-100%Холлофайбер Подкладка-80%Вискоза 20%Полиэстер
Подбор со стилистом
Персональный подбор образов с нашим стилистом
Terms of exchange and return
Return of goods of proper quality is possible if its presentation, seals, factory labels, labels, consumer properties, as well as a document confirming the purchase of the specified goods are preserved.
Items that have been used or have damaged tags cannot be returned.
Exchange/return online store (remotely)
You can exchange or return a purchase made online (remotely) within 7 days * from the date of receipt of the goods.
In the case of an exchange of goods of good quality, the return shipment is paid by the Buyer in one direction.
Refunds will be made minus shipping and handling fees. When placing an order with delivery by the transport company UPS, the return is made minus the customs fee.
Custom made orders cannot be returned or exchanged.
Making a refund:
— Within 7 days * after receiving the order, fill out a return application in your personal account, indicating your data for the return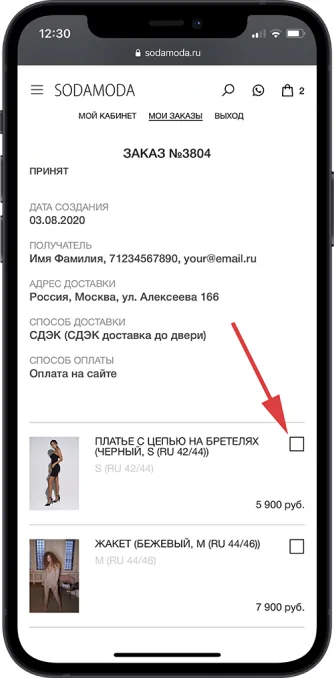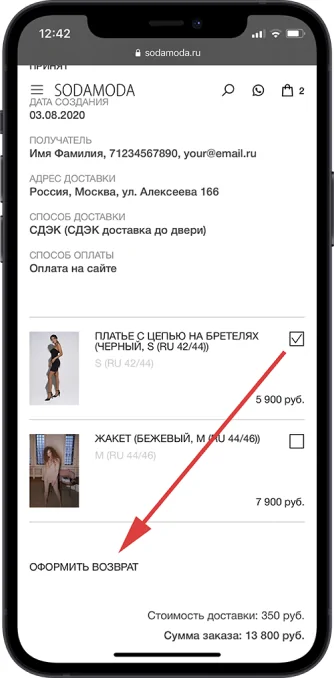 Also Available In